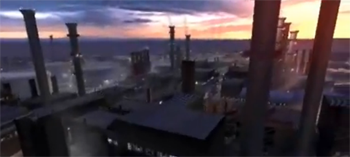 Detroit is a city in Michigan, U.S., it's featured in Midnight Club 3: DUB Edition. Detroit is the last city that player unlocks. Industrial to its core, Detroit is the birthplace of the automobile, and is known for its no nonsense attitude when it comes to racing. In this town, it doesn't matter what you pull up to the starting line with, only where you place at the finish. The Motor City's tight streets, blind turns and narrow alleyways make it too challenging for all but those who are utterly at ease behind the wheel.
Storyline
Edit
___________________________________________________________________________________
SPOILER WARNING!!! Plot and/or ending details are in the text which follows.
___________________________________________________________________________________
Midnight Club 3: DUB Edition
The player arrives in Detroit and sees a familiar face, Vince. Remembering him, he welcomes the player to town and his shop. He later points to a Lamborghini Murcielago and says it's the prize to whatever car club turns out the best street racer. Some returning faces from Atlanta come to Detroit, including Roy and Angel, who are plot-affected racers but they are never seen or mentioned. The player races them a couple of times, as wells as the car clubs. Early in the player's Detroit career, a Bad Boyz Tournament is held and a 49 Chevrolet Fleetline (as Oscar describes it 'Just the car to win in Detroit!') is the prize. Upon defeating the racers, the player scores a challenge from the By Invitation Only Exotic Car Club. Defeating them unlocks ZONE for Exotics and a Chrysler ME Four-Twelve. At this point, the player races all drivers twice, and upon defeating them, is crowned the victor of the US Champ Series. Afterwards, the player returns to Vince's and is rewarded the Lamborghini Murcielago from before. Vince says 'It should be driven with respect, and not by some San Diego swinger who thinks Oscar's something'.